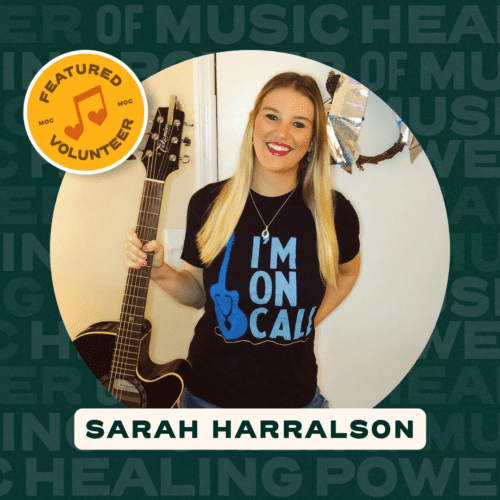 Meet Sarah Harralson
Get to know our Featured Volunteer from Nashville!
What Virtual Program do you volunteer with? I volunteer for Peds, Veterans, and Behavioral Health
How long have you been volunteering with Musicians On Call? I've been volunteering since 2015
Are you a volunteer guide or musician? Musician
What is your favorite song to play for patients? What a Wonderful World by Louis Armstrong has to be my favorite!
Which demographic do you love playing for and why? I love playing for all demographics, but it's always very special playing for children because they are so attentive and have the best questions and requests. Music truly has such a positive impact on them.
Do you have any livestreams or other performances coming up? I play monthly at the Hutton Hotel in Nashville, and you can always find a list of my performances at www.sarahharralson.com/shows
What is your occupation outside of MOC?  I'm an Artist Royalty Analyst & Singer/Songwriter
Do you have any hidden talents? My Granddad was an accordion player in bluegrass bands, so I like to occasionally play the accordion, which I'll incorporate into a virtual program soon! Also, fantasy football if that counts. MOC league, anyone?
What is your story? What connects you with music and why do you volunteer with MOC? Growing up, I didn't have a typical childhood and was a very quiet child. At a young age, I found music and songwriting as an outlet to express my feelings and it was very therapeutic. I know how healing music can be for people and that's why I wanted to volunteer with MOC and provide music to people who need it the most. Through MOC, I was able to find my mission as an artist and songwriter, which is to create and share music that can help people in some way.